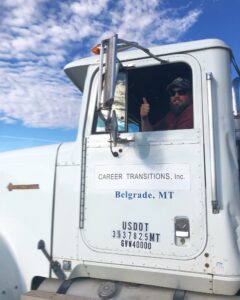 CDL drivers are integral to national and local economies and communities. A Commercial Driver's License is required to do many of the jobs that people take for granted every day, including but definitely not limited to: garbage and recycling, bus drivers, delivery of agriculture and food products, gas/ propane delivery, and hauling of any and all other products one needs in everyday life. Without people filling these jobs, economies would grind to a halt. Students of Career Transitions' CDL training program often go to work for local businesses, such as small farms and construction companies. These graduates are making a direct impact on the Gallatin County economy by keeping jobs and money in the county. Local companies have employees return home every night, creating a good work/ life balance, while also receiving high pay and good benefits. Drivers can also decide to do over-the-road trucking, taking them away from home for large lengths of time but allowing the ability to make a lot more money. Just within Career Transitions' direct community, we see businesses that could not thrive the way they are without an employee with a CDL. For example, some farmers that attend our Gallatin Valley Farmers' Market have received their CDL's in order to haul their products to processing plants. An interested student reached out because their family's farm cannot keep hiring out to haul their goods and they need someone in-house to do it, improving both the student and their family's lives.
According to the Trucking Database, there are 234 trucking companies registered with the Department of Transportation in Bozeman, Montana. Some are large fleets, driving all over the U.S. Others are small, single-person companies who haul between local businesses. All of these companies have a direct impact on Gallatin County's local economy, adding many jobs and opportunities for the people who live here. At Career Transitions, we strive to provide an accessible, flexible program that pushes students to learn quickly and efficiently. With a one-on-one, one-week program, students have a chance to learn in a setting that is tailored to them and their needs. Career Transitions' CDL instructor is a dedicated and passionate teacher, and with almost 40 years of experience behind him. He has a lot of knowledge to pass on to our students.
Career Transitions' CDL Training Program is a great place for interested students of any skill level to begin or continue their studies, as the content is tailored to everyone's individual needs. Our program keeps students in line with current Federal ELDT regulations and focuses on the information needed to pass the CDL Skills test, which includes Pre-Trip, Backing, and Driving. Our staff is also available to help students with resumes, job search, and more. Obtaining a CDL A opens the door for drivers to enter a secure, well-paid career, with opportunities for work almost anywhere within the United States. With an online, self-guided classroom portion and a week-long in person training, Career Transitions' CDL A Training is ideal for students with busy schedules who cannot take off a few weeks at a time for training. There is no better time to get started on this process than right now, so CONTACT US with any questions or REGISTER NOW!